You are reading the online edition of the Old Camdenians Newsletter, December 2021.
Alan Streeter
President
I want to take this opportunity to wish you a very happy holiday season. It has been a long term and a very long year. We have all adapted to new ways of working and new ways of behaving. Let us hope that we can spend some time with our families during the holiday.
Back in September the students and staff put together a very special Open Evening event. It seems so long ago that we were last able to demonstrate what a fantastic school Beacon High is. It makes me proud to see existing families spreading the word and telling new families how good the school is. We really do work together as a community and reflect the strength of our diversity. The students showed how proud they are of their school.
Despite all of the challenges that the pandemic continues to pose for the school we have had a very productive term. Many of our students and staff raised money for Save the Children by wearing Christmas jumpers.
Our year 11 students have been absolutely fantastic during their first set of mock exams. They showed a high level of maturity in the way they approached their studies and treated their mocks with the seriousness they require. We hope that these mocks do not prove essential for our learners' GCSE grades next summer but they do form part of the contingency should we be hit with any form of lockdown in the new year. What has impressed me the most is that the majority of the students see these mocks as a way to identify what they need to do to improve in their subjects. These examinations will enable us to highlight the PLCs (Personal Learning Checklist) that our students need to focus on after the Christmas holiday.
Many of our students and families contributed to the Celebration of Black History Month. It was great to see the work that the students have produced in their lessons.
Another positive was the appointment of the Senior students (blackties) and Ambassadors (silver ties). This year the Ambassadorial Team are Olivia Cole, Jaqub Uddin, Charlie Greenman, Bellevie Ngdingambote, Chenyi Murray, Hassan Ahmed, and Owen McFaman. Congratulations to these students.
You may also be aware that this term saw the admission of 59 Afghani students under the resettlement scheme. These youngsters have added so much to our school and its community already. What I admire most about our school community is our diversity and willingness to help others. These values will carry our youngsters a long way in life and those values start at home with their families. This is a prime example of what this school does so well. All students are welcomed and included at Beacon High irrespective of their background, their ability, their gender, their sexuality or their ethnicity.
It is always good to hear about the success of our students past and present so I was so happy to learn of the success of one of our former Beacon High students. Marta Barbosa Monteiro, who is currently studying for a BSc in Accounting and Finance at at SOAS, University of London's School of Oriental and African Studies. I am so pleased that the Trustees of the Old Camdenians unanimously agreed to award Marta with a £2,000 bursary to support her studies.
Best wishes and a happy new year to you all.
Regards
Alan
Alan Streeter, Headteacher
Denis Piggott
Chairman
Thank you, Alan, for providing such an upbeat roundup of the school's performance throughout an extraordinarily tough year. It is gratifying, too, to hear of the efforts the school has made to resettle students from Afghanistan, as detailed below by Jill.
Further down in this newsletter, Ray Rowe and Dennis Warwick both give stirring accounts of the annual lunch held at the school in October. I can confirm that a great time was had by all. It was marvellous that we were able to get together in the flesh, as it were, after two years of enforced separation (though it now looks as if we were just in time!), and I was particularly honoured to present George and Pam with their gifts in recognition of the wonderful service they have performed over many years in, among many other things, organising the annual lunch. George can now relax and enjoy burden-free future celebrations.
As for the future of the OCC, it was heartening to see lots of fresh young faces at the lunch, many of whom received £50 bursaries to spend as they see fit in furthering their education. We hope that they will continue to come to the lunches and whatever celebrations we may hold in the future, and that they will encourage their old school friends to join in too.
I wish you all a merry Christmas and a happy and healthy new year.
Denis Piggott
Chairman
Jill McLaughlin
Chair of Governors, Islington Futures Federation
As I write this on the 13th December 2021, I am reminded of the film Groundhog Day. Beacon High, along with other schools across Islington and the country, are working very hard to keep our students and staff safe and to continue with their education, as numbers of infection rise. I thank all members of staff, who have not only provided their own lessons but who have also covered and supported their colleagues. The impact of the vaccination, and of not choosing to have a vaccination, is played out every day in our schools.
Beacon High have had a good term, students were settling back into school, producing great art, playing football and cricket, learning musical instruments, studying and laughing. They have welcomed nearly 70 new students since September, including a group of 50 Afghani pupils. These have been welcomed and supported in the school, and are demonstrating a great work ethic, being keen to learn English and achieve the qualifications that they need to prosper in their new home. It is salutary to remember that they are travelling from the City of London, where they live in temporary accommodation, to attend school enthusiastically even though just six months ago they were living in their family homes, in a country many miles and cultures away.
Beacon High, along with other schools in the Islington Federation, recognise that alongside formal education they are developing future citizens of this country, young people who will be our communities. Fundraising, and philanthropy are important aspects in all of our lives. The Old Camdenians set a great example. The scholarship scheme makes a real difference, the smaller cheques to those students starting on their post-16 education and the provision of Chromebooks all make a difference, thank you. For their part, Beacon High set a high standard of Christmas jumper last Friday, as they raised £250 for Save the Children. Thank you and well done to all.
Stay safe, be vaccinated, boosted and tested this holiday and may you enjoy peace, good health and fun this festive period.
Jill McLaughlin
Chair of Governors, Islington Futures Federation
News from committee members
Dennis Warwick
All previous attendees have come to expect a great lunch and George and Pam's 2021 finale did not disappoint. As their farewell meal ended, it was acknowledged by the presentations from Denis and Ray on behalf of the OCC. A fitting and emotional climax to decades of meals, the result of their hard work and skilful organisation. But perhaps their most important contribution has been in provide a relaxing, companionable backdrop that has always enhanced the interface between all attendees. On this occasion table five was probably the most robust table, particularly at the Red House end in orchestrating the school song when the screen introduction failed. Capped by all on that table contributing to a significant collection into the OCC funds.
Well, OK no detective skills needed to work out this VP was an ex-Red House lad located on table five. So, my house comments are biased but show that, even some 60 years later, one can still recall the constructive competitive spirit that existed between houses in formative school years. The annual lunches confirming that I am not alone in this inter-house rivalry. However, whilst blowing the Red House trumpet, I regret having to report that sales of the Red House T Shirt are poor. Clutching at straws, this may just indicate that sartorial elegance in later life has resulted in the other three colours being in more demand (no doubt with Ray's modelling skills enhancing green sales). Hopefully, there are some out there who will snap-up Red (and the others) newly introduced, unique T shirts. All are of excellent quality.
Well, if anyone has read this far, they must be staunch Camdenians. No doubt reflecting that during their school days they belonged to a more successful house than Red (for anyone from Green House that's just a fantasy). However, irrespective of house background, all current members will acknowledge that the OCC unisex umbrella currently covers all past and present pupils and, with young blood now joining the committee, remains there for all future pupils to join. To all at the school and all Camdenians, I trust you enjoy this festive season and you and your families have health and happiness in 2022 and beyond.
George Ives
May we extend our sincere appreciation of the send-off the members accorded us on the occasion of our last OC Lunch. I say last because we have organised about 25 such occasions, but we hope to attend many in the future, without the responsibility of being organisers. Pam and I have had the pleasure and privilege of conducting the event and of course we have made so many good friends as a result. In acknowledging the tributes extended to us and the wonderful presents given, had difficulty in paying our thanks and indeed regrets that age has meant we no longer can look forward to the madhouse of being "behind the scenes".
I would like to extend my thanks to our "team", who so many of you have come to know, and look forward to renewing old acquaintances. I know that they, as well as us, have looked forward to such happy occasions. Our caterers have informed me that it is one of the happiest, kindest, and most enjoyable events they serve in the year.
We wish those who follow us every success with what I hope will be continuing the tradition of the Lunch and hope that it will attract even more to come and join us.
May I finish with the thoughts I grew up with in the War: So long, its been good to know you and We'll meet again!
George & Pam Ives and the Team
Your Club Needs You
Please join if you are not already a member

50+ Club membership is £60 per year or a standing order of £5 per month. A number between 1 and 59 is selected and that is entered into a monthly draw which is determined by the first two numbers drawn in the National Lottery. Prizes are £100 (£200 in November) and £20 (£50 in November). For more information contact us here.
Ray Rowe
Honorary Secretary
If you want to know what we got up to after the 112th AGM, on 29th October 2021, then just pop along to our Photo Gallery and soak up the pleasure and enjoyment on the faces of all those OCs and their guests who were meeting each other for the first time since lockdown. George Ives, supported by his wife, Pam, and their team, under the stewardship of Ann Tennant, gave us an annual lunch to remember – it was George's and Pam's farewell – the final hand on the tiller!
The club's Chairman, Denis Piggott, gracefully presented them with two framed T-shirts, a couple of bottles of Chablis and two glasses to enjoy!
Did you know that George was in White House while at school and played football and boxed for Great Britain? George and Pam got a standing ovation for their 75 years dedication to the Old Camdenians.
The specially made long-sleeved T-shirts were commissioned for the launch of the OCC's new website by an anonymous OC donor – to whom we are very grateful. Each shirt had our logo embroidered on the front with Camdenians 1909 into Infinit printed on the back. I wore my Green House T-shirt during the presentation and organised the sale of the remaining Red (Irvin), Blue (Turing), Green (Kingsley) and White House T-shirts after the event, with all proceeds going to the OCC. It should be noted that Belle House (Yellow) is not White House, which was closed in the 1970s. If you would like to purchase your own long-sleeved OCC House T-shirt then contact me. We have a few left over from the website launch, but if there is sufficient demand then we can re-order.
Great news regarding Marta Monteiro, an Old Camdenian who is currently in her first year at University of London's School of Oriental and African Studies (SOAS). Marta is studying for a BSc Accounting and Finance. She was supported by her nominee, Ashley Gurd (Beacon High). I am pleased to report that the Trustees unanimously agreed to award Marta Barbosa Monteiro with £2,000 from the fund; that is, £1,000 for her first year and two payments of £500 for each subsequent year. The years two and three payments will be dependent on continuation with her course and mentoring. It should be emphasised that successful candidates will be expected to be mentors and share their experiences with further bursary applicants.
We are very grateful to Sarah McDonald for passing the news about Marta's bursary in the Beacon , the school's weekly newsletter, on 10th December. Also, for arranging the attendance of our lunch guests: Shazia Azif; Jimmy Elliott; Eyub Kamazov, Shamir Lamri, Nicola Mahler, Samuel Ogunkola and Chantelle Walker, who all received £50 bursaries towards their studies.
The Qwerty IT Services team have done wonders with our new website and holding my hand while we try to get all the little changes that need to be made. I am trying my best, but if you notice something that needs changing please contact me – it is your website!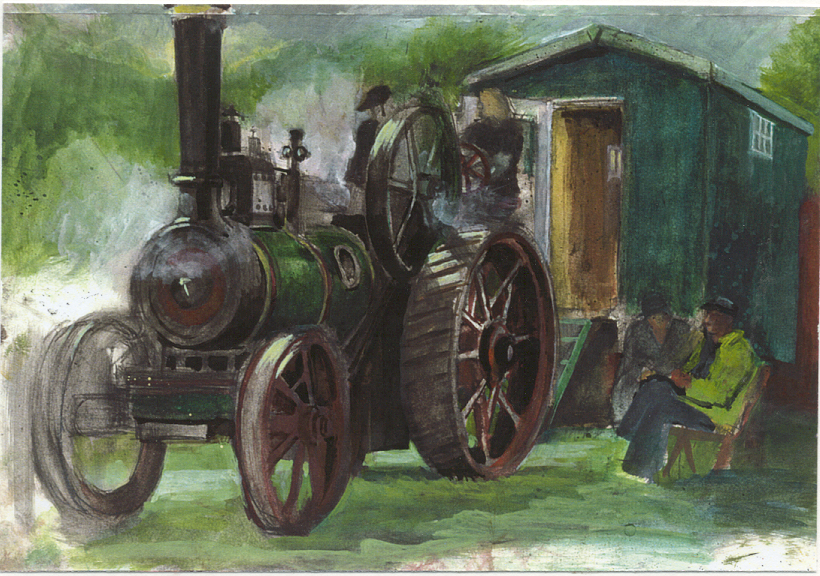 'Peggy the steam traction engine with Sue the living wagon', painting by Sarah Steen
Lastly, I swam 3.5km breaststroke at my local pool in the Swimathon 2021 and raised £150 for two charities: Cancer Research UK and Marie Curie. With the Covid-19 pandemic we can easily take our eye off the ball when it comes to our own health and well being. We are reluctant to talk openly about cancer and where to go for advice. I have been raising awareness and funds for the Prostate Cancer Research Centre for the past 10 years, handing out booklets when attending and giving rides at steam rallies throughout the UK . I am fortunate to own 'Peggy', a 7 nominal horse power general purpose steam traction engine, designed by William Fletcher and built by Clayton and Shuttleworth Limited, at their Stamp End works in Lincoln, in May 1904. Peggy draws the crowds and I encourage all men over the age of 40 to ensure that they have an annual blood test that especially checks their prostate-specific antigen (PSA) level. I will not go into what I have learnt over the years, but there does seem a reluctance for doctors to have PSA on the form when asking for other blood tests; you must ensure that you can check what your age specific levels are. PSA is only an indication, but forewarned is forearmed. If you feel that you want to share your experiences with us please contact me .
Enjoy the festive season and we will see you all in 2022.
Keeping in Touch
Paul J White
I like how the new website is presented and the links work well. If I could, I would make one recommendation, and that is to provide more background information of the "stars" who have passed through one wonderful school by adding the capacity and dates they attended. This would add perspective to their accomplishments. Also, it would be nice to see a the gallery of photos include some old photos from down the years.
I attended the school between Sept 1972 and June 1978 and played football in the school teams that included both Toyin Okitikpi and Owsun Abebrese. In the 70s the school was regarded as the Academy in Football with both these playing in the National Schools Final. Back then I would have expected them to make it at professional level. Sadly, it never happened. However, it's good to see they accomplished so much academically. Can't believe that it's nearly 50 years ago that I arrived in 1YW under the guidance of Mr Sean Wilkinson and these two were in 1YN. What wonderful memories.
Keep up the great work.
Paul J White
Old Camdenians  Lunch / Dinner
Hopefully, we will be announcing our next  get together in  May or June 2022, at Beacon High School, London N7 0JG. Also, the date of the annual lunch in the October half-term too.  So  please keep an eye on the OCC website updates and your emails.
If you are interested in attending a May/June evening dinner and/or the annual lunch could you please  let me know via 'Contact Us' – thank you.
Sign up to receive newsletters by email
If you would like to be notified when we publish our quarterly newsletter, enter your email address and we will add you to our list. You will then receive a link to the latest newsletter as soon as it is published.