Peter Eden is trying to contact any ex Prefect from the 1957 school photograph.
Peter said, "I can remember all the faces but unfortunately not all the names. Front row centre is the then headmaster, Mr Brown, and to his left is his deputy, Mr Griffiths. Also front row, 2nd left is Ben Barker, with whom I went on one of the Aldermaston CND marches and at the far right is Fransman, given name forgotten. On the back row, left, is Desmond Fanning, then Tony Tapping, me and far right, Harry Levy. I left Holloway School in 1958 to study at Guy's Hospital and ended up as a specialist in maxillo-facial surgery in Northamptonshire, where I now live – can anyone help please?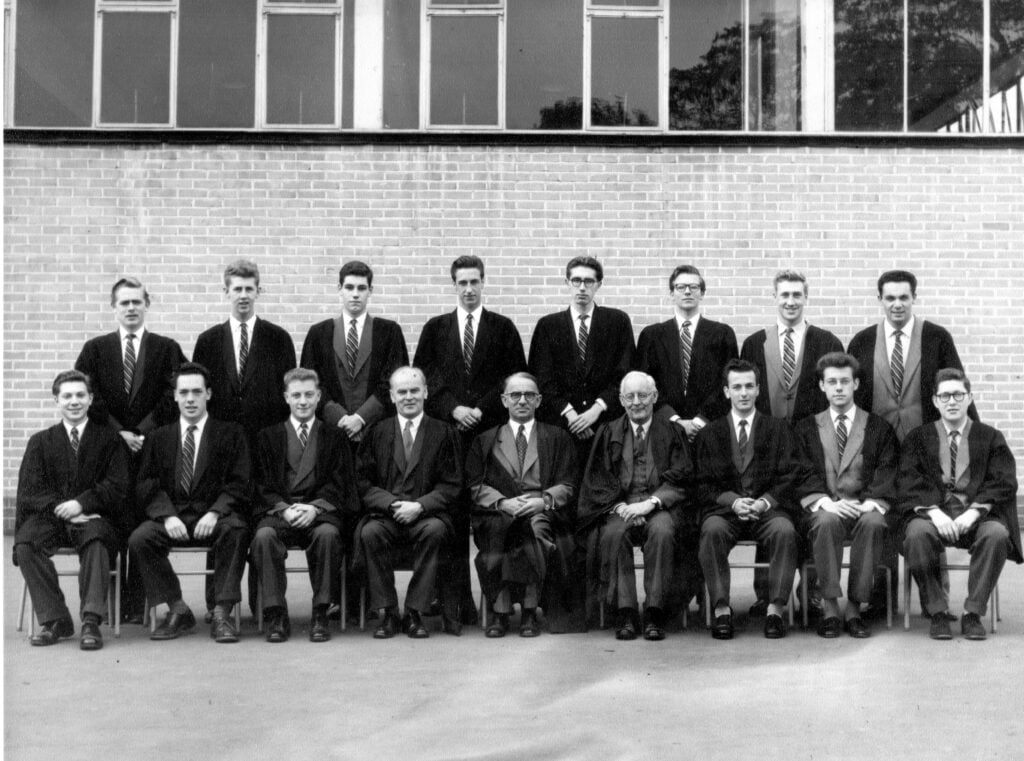 Prefects and staff 1957
Des Fanning
I am responding to Peter Eden's request in the June Newsletter for information on people in his photograph of prefects. I remember Peter well from the A level zoology/botany lessons we had with our biology teacher, Louis Watt. Louis was a wonderful teacher with an absolute dedication to improving the lot of those who were lucky enough to be his pupils. Peter and I were part of a tiny class which also included Alan Skye and a chap who suffered from asthma who, I think, was called Jenkins. As to the photograph, I know most of the names.
Bottom row L to R: Don't know the first but next comes Ben Barker, Alan Mitchell (School Captain), Mr Bristow (I think) (Dep Head), Mr Brown (Head), "Bunny" Griffiths (Dep Head), Brian Collings, David Lee, John Fransman.
Top Row L to R: Me, Tony Tapping, Peter Eden, Derek Sweeting, Don't know, Alan Smith, Reg Pritchett, Harry Levy.
The only one I've kept in touch with is Brian Collings who has lived for many years in Australia. We used to meet up on his trips back here and a few years ago my wife, Val, and I had a very enjoyable time with him and his wife in their country.
You may know that John Fransman is a holocaust survivor. He tells the full story of his frightful childhood in Belsen Concentration Camp in a YouTube video created earlier this year – " A Dutch Jewish Survivor's recollections of the Holocaust, John Fransman". I gather from the video that John now lives in Jerusalem.
As for me, I am embarrassed by my time at school. I was lazy and disruptive – a teacher's nightmare. And it's a great tribute to the school and staff that despite this, I was given what I regard as a superb education. After National Service, I fell into the Civil Service at a very basic level but woke up to the need for hard work and managed to create a fascinating and rewarding career, advising ministers in a number of policy areas. I had a career change at 50, when Val and I went into business together in Somerset where we still live. Thankfully, we succeeded, creating employment for 16 people, and retiring 13 years ago. I am now engaged almost full-time, caring for Val, who sadly has Alzheimer's. As a third career this is more difficult than the other two, but every bit as rewarding. I do hope this is of some interest.
Christy Durand is trying to contact an ex classmates. I attended school 1979-1984 when it was a rough place to be.
My form teacher was Angela Wasserman who then became Angela Arnold. Wondered if any of these are members or still around. People in my class were:-
Mark Burdis; Michael Bradley; James Conway; Stephen Ellis; Mark Powell; Arnold Pridie; Ian Eldridge; Erkan Beyt; Sean O'Neil; Stephen Inskip (until he was bullied out); Steven Cartmill; Pritam Gopal; John ; and John Nyack
All I actually remember school as non-stop years of fighting and violence. Maybe that's why I am a PMC
Keith Moir  David Knight. Keith and David were initially in Mr. Williams form, he had a cycling accident and our class was taken over by Robin Chambers, we were there from 1966 thru 1970/1971ish. Our class was QW, White House – can anyone help please?
Ron Poole is trying to contact Laurence Myers and any ex classmates 1946 -51 – can anyone help please?
Gordon Chase would like to get in touch with
Tommy Head and Georgie Green (or their families)
both of who were billeted with him at the Robersons at Towcester in 1939. Bill Glover 1951-56 now resident in Australia would like to hear from any of his contemporaries who were at Holloway during the years 51-56.
Bill Glover and David Blake would like to make contact with, or hear news of, the following members of Class 5c, 1956:
ALAN BRADLEY
EDWARD ISLIP
WILLIAM SHIERS
DAVID RANCE
RONALD WETHERALL
PHILIP ANDREWS
PHILIP LAMONT
ANTHONY NEWTON
ROGER HACKLING
MAURICE HOLLAMBY
Ian and Derek Woodward
Walter Eyles has kindly asked if anyone knows of the whereabouts of the above brothers
Peter Le Cheminant
Ron Perry is anxious to find the whereabouts of Peter
Paul Windebank 1958-1962 Paul would like to get in touch with Tony Celachi. If anyone knows his whereabouts please get in touch.
David Taylor 1948 – 53 would like to hear from anyone from that era.
Please send all enquiries to Dr Raymond Rowe at