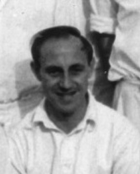 Nora Wraight,  wife and companion of our Billy for over  sixty years.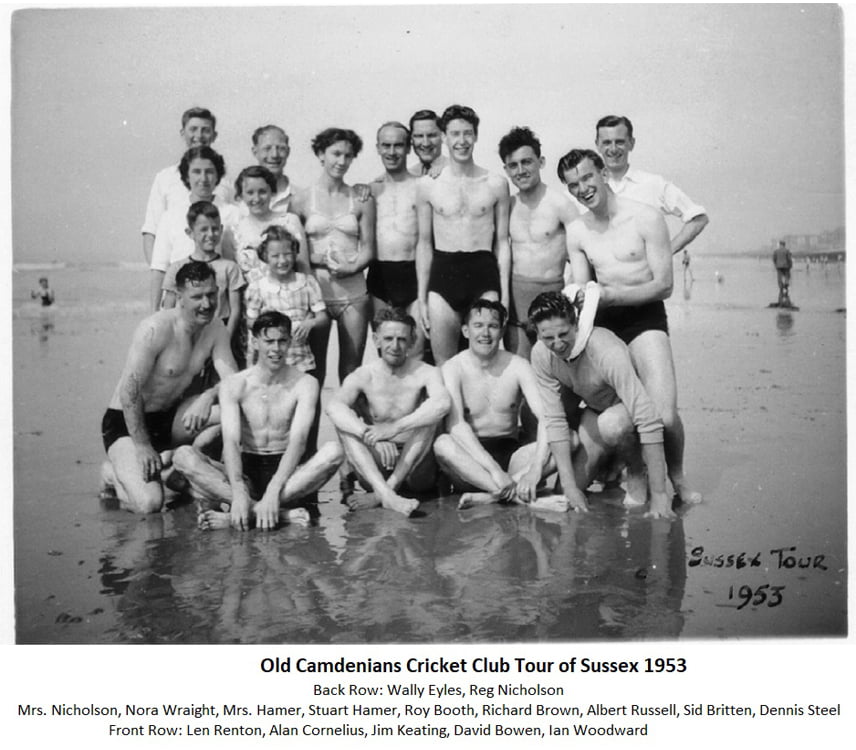 Nora is seen here having a day on the beach during an Old Camdenians Cricket Team Tour.  Nora is standing between two other wives on the left of the picture. It is believed that Billy took the picture that we now share with you.
From an early age Billy was always a dedicated and energetic sportsman. During World War Two Billy was evacuated with Holloway school to the Towcester area and was a member of the Army Cadet Corps and became a pilot and navigator air bomber.
Billy played an important role in the Old Boys cricket and football sides during their glory years after the war. As a diminutive opening bat his strength was the classic hook shot. He was a fearless close forward short leg fielder; in what was then fashionable to have three short legs to off spin bowlers. He bowled occasional loopy off breaks himself when called upon to end any resistant partnerships. His quick dashes down the wing for the football 1st XI earned him some bone crunching tackles to add to his numerous cracked or broken fingers while fielding at cricket. Billy was a team man and he urged everyone to perform to his best.
After he retired playing, Billy was a keen spectator and had season tickets to both Middlesex and Surrey and indeed was a member of the MCC. He was light on his feet and taught Latin American dancing until ill health prevented him.
Billy died in hospital on Wednesday 11th June 2008 after a long illness, which he fought to the end. He was supported and nursed by Nora, his wife of sixty years. They married in 1948 and were due to celebrate their Diamond wedding that year.
On 26th February 2017, Nora Wraight died. By Clause 4 ( c ) ( vi ) of her Will, dated 11 April 2011, she bequeathed a share in her residuary estate to the Old Camdenians Club (Old Camdenians) in memory of the time her late husband Bill Wraight spent at Holloway School now known as Beacon High School.
At the Annual General Meeting of the Old Camdenians held on 25th October 2019 it was resolved that the amount received would be segregated from other funds held by the Old Camdenians and be called "The Bill and Nora Wraight Old Camdenians Memorial Fund".
It was further resolved that the Trustees would be appointed to manage and administer the Fund for and on behalf of the Old Camdenians subject to the terms of the Trust Deed.
The purpose of the fund is to assist alumni of Beacon High School by the provision of financial awards to such alumni who satisfy the following conditions: they have embarked or are due to embark on tertiary education; they intend to obtain a recognised qualification of either an academic or vocational nature.
The decision of the Trustees in relation as to what is a recognised qualification shall be final.
The award made will be used towards the cost of the applicant's education and work placement, but not limited to fees, equipment or reading materials, but may cover, without prejudice to any other costs or expenses, the cost of accommodation and subsistence.
No single award shall exceed the sum of two thousand pounds (£2,000). The award will be over a period of three years; with £1,000 in the first year and £500 in each of the subsequent years. The years 2 and 3 payments will be dependent on continuation with their course(s) and mentoring. It should be emphasised that successful candidates will be expected to be mentors and share their experiences with future bursary applicants
William 'Billy' Wraight with the Old Camdenians Cricket Team on Tour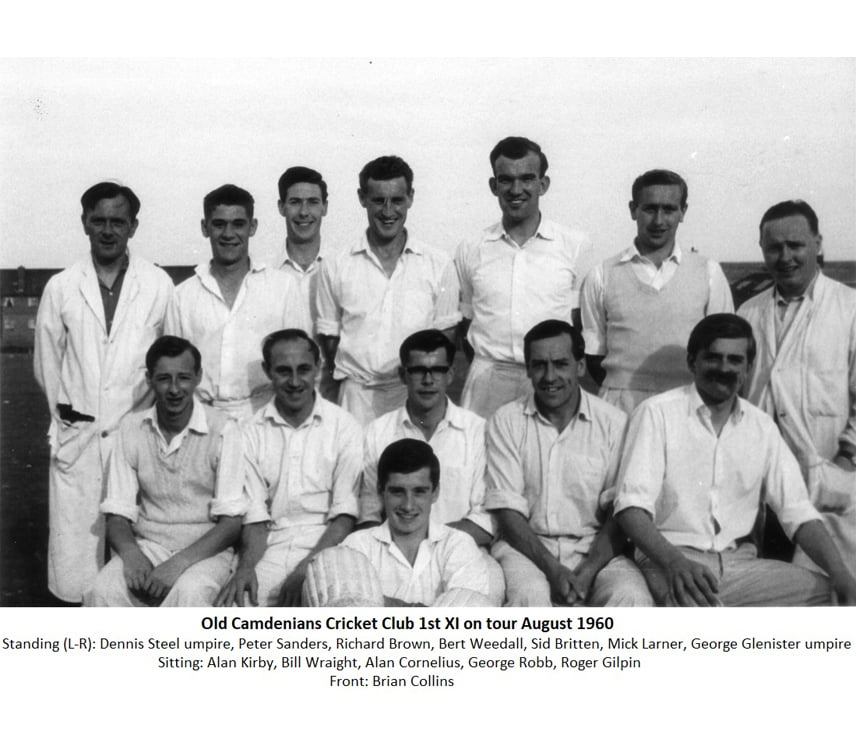 If you would like to apply to the Old Camdenians for a bursary please contact Dr Raymond Rowe (Hon. Sec. OCC) via the contact form.