The club is very grateful for any and all donations that we receive to make our donations to the school. With your valued participation and generous donations the OCC is more able to support the pupils and school with yearly disbursements. However, since we do not have a members' subscription fee our only other source of income is through the George Ives 50+ Club membership. Please help us to realise future causes and help change a life by joining the George Ives 50+ Club, which is £60 per year or a standing order of £5 per month. A number between 1 and 59 is selected and that is entered into a monthly draw which is determined by the first two numbers drawn in the National Lottery. Prizes are £100 (£200 in November) and £20 (£50 in November).  For more information contact us here.
We are currently supporting the school to purchase kit for the Girls Football Teams.  Bill Wood,  OCC Vice President and Head of PE at Beacon High School, reports in our March newsletter thanking the club for its generous donation and, has supplied photographs of the team with comments of thanks from the players.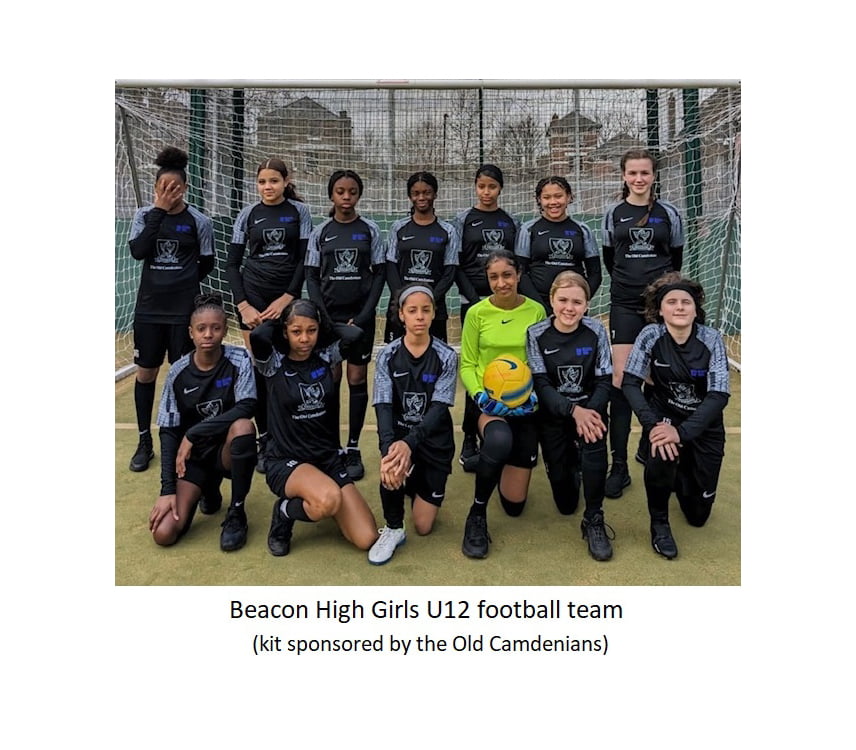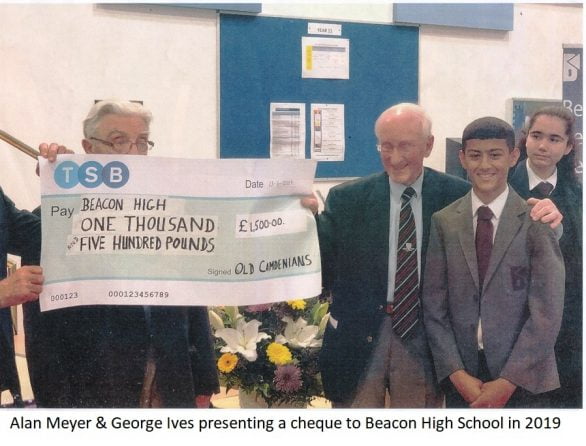 Now is your chance to help the Club and by doing so help the School and the Students
Winners are judged by the numbers of the first and second balls drawn in the National Lottery on the last Saturday in every month.
Prizes to be won each month are:
1st Prize £100 (£200 in November)
2nd Prize £20 (£50 in November)
Payment can be made by a Standing Order of £5 per month.
Results of the George Ives 50+ Club Draws 2023 – 2024
| Date | 1st | 2nd |
| --- | --- | --- |
| 30.9.2023 | 40 | 14 |
| 28.10.2023 | 42 | 50 |
| 25.11.2023 | 9 | 5 |
| | | |
| | | |
| | | |
| | | |
| | | |
| | | |
| | | |
| | | |
| | | |
| | | |
| | | |
| | | |
| | | |
| | | |
| | | |
| | | |
| | | |
| | | |
| | | |
| | | |
| | | |
| | | |
Results of the George Ives 50+ Club Draws 2022 – 2023
| Date | 1st | 2nd |
| --- | --- | --- |
| 24.9.2022 | 18 | 50 |
| 29.10.2022 | 58 | 37 |
| 26.11.2022 | 52 | 50 |
| 31.12.2022 | 34 | 57 |
| 28.01.2023 | 20 | 5 |
| 25.02.2023 | 32 | 31 |
| 25.03.2023 | 11 | 43 |
| 29.04.2023 | 56 | 12 |
| 27.05.2023 | 22 | 5 |
| 24.06.2023 | 22 | 17 |
| 29.07.2023 | 20 | 56 |
| 26.08.2023 | 13 | 42 |
Results of the George Ives 50+ Club Draws 2020 – 2022
| Date | 1st | 2nd |
| --- | --- | --- |
| 26.9.2020 | 55 | 54 |
| 31.10.2020 | 16 | 59 |
| 28.11.2020 | 35 | 9 |
| 26.12.2020 | 43 | 44 |
| 30.1.2021 | 36 | 51 |
| 27.2.2021 | 4 | 49 |
| 27.3.2021 | 18 | 22 |
| 24.4.2021 | 29 | 16 |
| 29.5.2021 | 10 | 55 |
| 26.6.2021 | 24 | 37 |
| 31.7.2021 | 43 | 11 |
| 28.8.2021 | 24 | 50 |
| 25.9.2021 | 31 | 13 |
| 30.10.2021 | 18 | 51 |
| 27.11.2021 | 15 | 48 |
| 25.12.2021 | 42 | 26 |
| 29.01.2022 | 50 | 12 |
| 26.02.2022 | 52 | 8 |
| 26.03.2022 | 13 | 27 |
| 30.04.2022 | 15 | 19 |
| 28.05.2022 | 24 | 57 |
| 25.06.2022 | 43 | 13 |
| 30.07.2022 | 33 | 7 |
| 27.08.2022 | 20 | 7 |
If you wish to join or if you wish to have another number, please contact us now: